We are located one mile from the Canadian Border. Enjoy fishing from Island View Lodge on Rainy Lake, both in Minnesota and in Canadian waters. Please ask us about guided fishing trips on Rainy Lake in Canadian Waters.
Guided Rainy Lake Fishing Trips
Experience Rainy Lake fishing at its best! We can arrange for a professional fishing guide to take you out for some fast fishing action. Our guides have decades of experience and can put you on any species of fish you desire. Our guests are also treated to a delicious shore lunch prepared by their guide. Please contact us for reservation and rate information.
Angler's Paradise
Experience an angler's paradise on Rainy Lake! As one of the most sought-after fishing destinations in the upper Midwest, this stunning lake offers an abundance of walleye, sauger, smallmouth bass, northern pike, musky, and crappie. With countless islands, bays, and reefs, Rainy Lake provides the ultimate fishing experience for both novice and pro anglers alike. Don't miss out on the chance to reel in your biggest catch yet in the breathtaking beauty of Rainy Lake!
Rainy Lake Walleye Fishing
Rainy Lake has one of the best managed walleye populations in Minnesota. Since the implementation of a slot limit several years ago, Rainy Lake has seen a dramatic rise in its walleye population. Today those lucky enough to fish Rainy Lake experience fantastic walleye action. It is not uncommon for our guests to catch several fish in the 20-inch range every time they hit the water. Our guests also catch large numbers of good "eating size" fish. For current slot limit and other fishing regulations, CLICK HERE.
Rainy Lake Smallmouth Bass Fishing
Arguably the best fighting fish in North America, the smallmouth bass is truly a world- class sport fish. For our guests who choose to fish for Rainy Lake bronze-backs, they will experience some of the finest smallmouth fishing anywhere in the upper Midwest. Rainy Lake's abundant reefs, islands and spawning grounds help produce large numbers of smallmouth bass.
Rainy Lake Crappie Fishing
It's hard to beat a Rainy Lake spring-time crappie bite. Slab crappies are plentiful in Rainy Lake and can be caught within minutes of Island View Lodge! Rainy Lake crappies are big, aggressive and fun to catch — especially if fished with ultra-lite tackle. If you are interested in experiencing some of Minnesota's best crappie action, plan a spring get-a-way to Island View Lodge.
Rainy Lake Northern Pike Fishing
Northern pike fishing is definitely one of Rainy Lake's best kept secrets. Because of the walleye's popularity, northern pike are often times overlooked by Rainy Lake anglers. Rainy Lake pike can be caught almost anywhere; with many of our guests catching large pike while fishing walleyes on reefs or smallmouth along a rocky stretch of shoreline. For those who dream of catching pike in the 30-40 degree category, Rainy Lake is the place to be!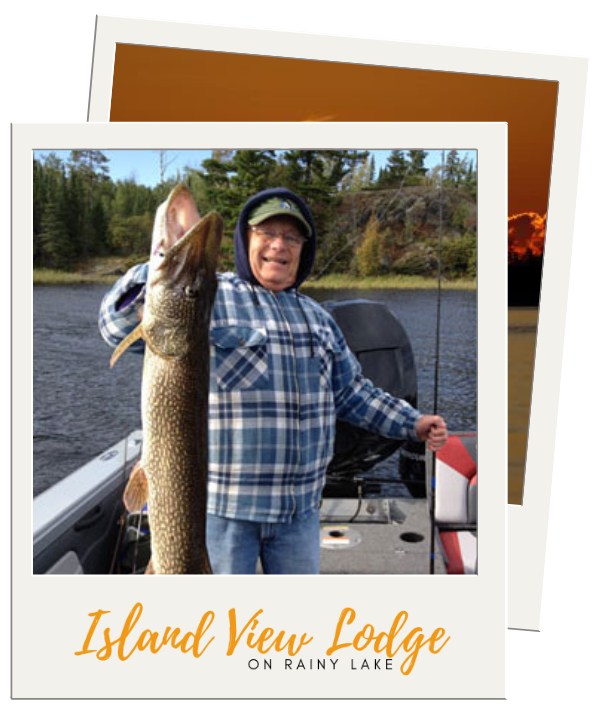 Rainy Lake Vacation
Reserve Yours Today!
1817 Hwy 11 East • International Falls, MN 56649
800-777-7856 • 218-286-3511